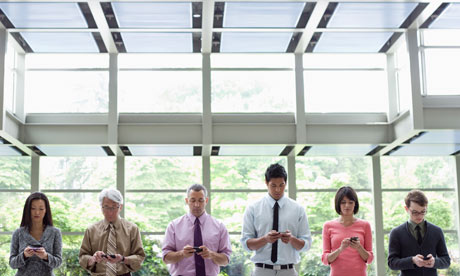 I'm sat in a square trying to listen to Dick Raaijmaker's Pianoforte but it's being ruined by the (modern) R&B blasting out of the parked Royal Mail van...modern people are rubbish...
Modern people listen to rubbish
...all modern bands are rubbish except Sleaford Mods (and they're not even a 'band') and the Sun Ra Arkestra along with any bands lead by surviving Jazz legends although even seeing Sonny Rollins 'live' might be rubbish compared to seeing him in 1958...because modern music is rubbish, obviously, except for good electronic music, which hardly anyone listens to...see Later With Jools Holland and the charts...
Modern people watch rubbish
...in Cineplex hell holes screening shit in 3-D because modern people have no capacity to engage with intelligent or artistic directing or scripts...and they watch rubbish TV like reality shows or 'talent' contests and the news because they want to keep up with the rubbish that's going on like terrorist video broadcasts and men in the streets killing each other in the name of either religious or political shit...and all politics in Britain is rubbish populated by showroom dummies spouting the party line because they can't speak their minds for fear of losing their careers, except they have no individual minds to speak because they're all cloned at head office...so modern people get confused trying to choose when there's no real difference...
Modern people read rubbish
...because there are no great modern novels except
The Prone Gunman
by Jean-Patrick Manchette (1981),
No Country For Old Men
by Cormac McCarthy (2005) and
Noir
by Robert Coover (2010)...but those who still read consider themselves to be some kind of holy breed just because they've got a book in their hands, or a Kindle, which enables them to handhold more shit than they could ever dream of - whoopee! They read newspapers, mostly rubbish tabloids that keep their brains topped up with shit, or skim articles online because modern people can't read anything longer than a tweet or, at a push, 300 words...they read popular blogs by 'funny' people, or those waiting to die from an incurable disease...or ten-year-old fashion gurus...or whatever rubbish makes a blog popular...and of course they read tweets...all day long, 'tweet, tweet, tweet'...trending apocalypse of emptiness...and any rubbish written by their celebrity heroes...
Modern people wear rubbish
...just look around you at the half-arse (literally) jeans, sad sack t-shirts (logos or any 'hipster' record label/band in a feeble attempt to announce some kind of individuality), criminal shorts'n'socks, 'sexy' wannabe celeb birds tottering on heels, shit trainers (still!)...even blokes riding bikes show the cracks of their arseholes because they don't know what a belt is and the rubbish trousers are cut too low...and unless you're a fat middle-aged man forget trying to find anything that fits (Uniqlo being a notable exception)...talking of fat, sadly, the shape a lot of people are in even if they wore great clothes they'd look rubbish...because...
Modern people eat rubbish
...ready-made, shit-filled for the Got No Time generations who need the time to tweet and watch shit on telly or work longer hours to be able to afford more rubbish...and they moan about the cost of the shit instead of learning to cook good, simple, economic food which even imbeciles could manage if their numbed brains thought about it...salt, fat, sugar, salt, fat, sugar...irresistible! Slush puppy pizza chicken village chips kebab lifestyle of the poor and lazy...
Modern people's protests are rubbish
...involving either mindless shop-smashing rage against the world to get trainers and flat screen TVs, or playing didgeridoos or bongos as if that's going to worry The Man...honkies with dreadlocks looked crap in the 80s never mind now...shouting about being 'anti-capitalist' as if a vague, generalised notion of what's wrong is the route to changing anything...their slogans are rubbish compared to Paris 1968 and they don't dress half as well either...or a timid soul raises their hand on Question Time to lodge a little complaint or ask a 'protest' question during their token democratic TV time slot to get by-the-book answers from MPs and agreement from a 'controversial' celebrity guest who wants publicity and more followers on Twitter...
Modern people's obsession with technology is rubbish
...quite obviously, although the way people worship it and companies promote it you'd think that the latest upgrade of any shit is absolutely essential to modern life...because we're all shackled to technology to varying degrees but the truly modern person is a slave who cannot cut the chain that links them to their phones or laptops which must be open everywhere including on a plane/mountain, toilet/bed because to sit and either just think, look around, doodle, dream, be creative is, like...
why
? Right? Why, when you can have a coffee in a cafe and be online? Why would you not do that, eh? And why wouldn't you buy technology for your child so they don't feel left out when their five-year-old friends are all online watching porn or bullying each other, or joining sites dedicated to promoting suicide or self-harm ("I can't face the thought of being ten!")...
Modern people...honestly...