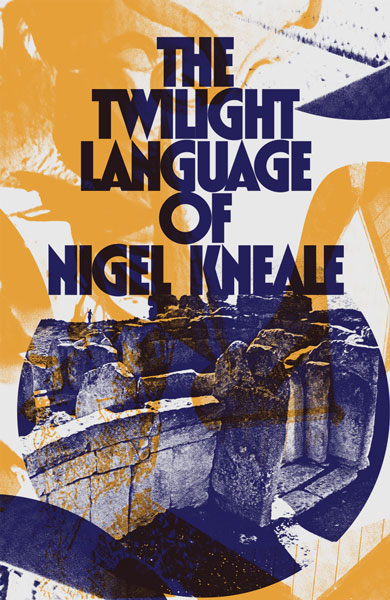 Countless unknown pleasures await us - if we could count them, it would be weird, and contradictory, yes? How many artists, writers, musicians await our discovery? It's like looking up at the night sky and trying to imagine all the stars...
Nigel Kneale
was unknown to me until a friend on Facebook posted notice of this from the publisher's (
Strange Attractor
) site. I had heard of the legendary
Quatermass
series
but never seen it. Being a child of the first Dr Who series, this pioneering sci-fi programme somehow seemed beyond me, simply by happening before me. This is odd because so much cinema and music I love also happened before me.
The only other
Quatermass
I knew was
Tod Dockstader's seminal work
of the same name from 1964. Dockstader was oblivious to the series when he used the title having seen it on the spine of a book in a library, apparently. He's found out since, of course. It's an apt imaginary soundtrack to the series.
A more direct musical link comes from Drew Mulholland, who's music as
Mount Vernon Arts Lab
has been inspired, in part, by his obsession with
Quatermass,
which
he writes about in this book. He confesses that it got so bad he 'had to reign it in'. Other highlights are Paolo Javier's 'Kneale Before Zod', a compendium of quotes and coincidences relating to Kneale (he was born on the same day as Charles Mingus), and the ever-dependable Ken Hollings' 'Spaceship UK: The British Space Programme as Musical Exploration'. There's also a good interview with China Miéville.
I must mention Rob Carmichael's design, which is outstanding.
Because I was quick off the mark I got the cassette that comes with early copies, along with the poster advertising a New York event in honour of Nigel Kneale, which strikes me as odd, but we know that cult status breaks all national barriers, so why not? There's some good music, most of it in the retro 60s sci-fi instrumental mode you would expect, except for
Mordant Music's
10-minute contribution, which is a pea-souper of a mix so thick yet ethereal that it's quite possible to get lost inside.
All-in-all a fine job's been done by editor Sukhdev Sandhu. Only 250 printed, though, so hurry if you're interested.
Also written by Kneale...