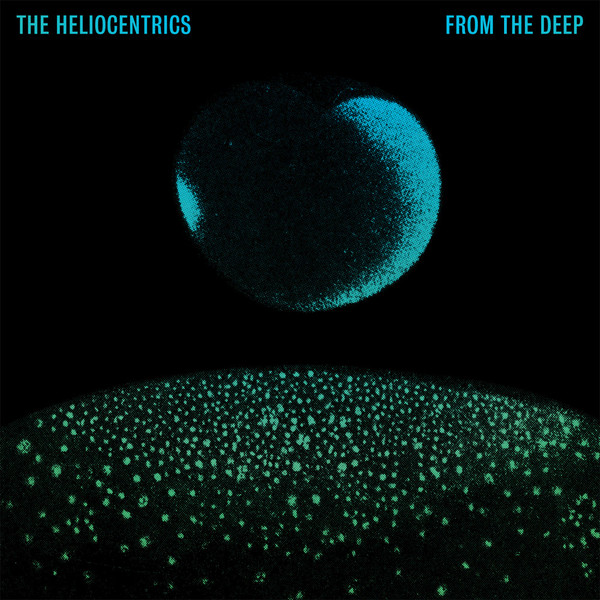 Oooooohhhh-weeeeeeeeee - I feel sanctified! Don't you love a fat (phat) bass line? I do, from Charles Mingus to Bootsy Collins and even Jake Ferguson of The Heliocentrics, yes - or am I getting carried away by tagging him next to such legends? I don't care. He doesn't either. In fact, he'd love it.
This is old material, apparently, but that doesn't prevent it from being funkier than a mosquito's tweeter. 'We aren't jazz players but we can have a go at freestyle', said drummer Malcolm Catto in 2013 - that's the spirit! It didn't stop Rip Rig & Panic, did it? Although perhaps comparisons with them aren't justified either. The Heliocentrics get the mix between groove, grit (and gravy) and go-ahead-blow-away just right. As on The Pit. or, you see, no band worth its salt can exist without being touched by the genius of His Cosmic Overlord Sun Ra, can it? So The Heliocentrics embrace the space age too (you noticed with this cover?), on Outer Realms Pt 2, wherein they dream of making bonus tracks for Ra's Lanquidity album, perhaps.
Whatever, this is as good a way to start the week-end as any. And they're London-based, by the way, therefore naturally hipper than most (ha-ha!) - probably having spent a lot of time on the scene, you know? The Jazz-Club-Rare-Funk-Groove, er, scene. I dunno. I do know this is a fine compilation and look forward to the new one they're making. Yes.
Now-Again Records