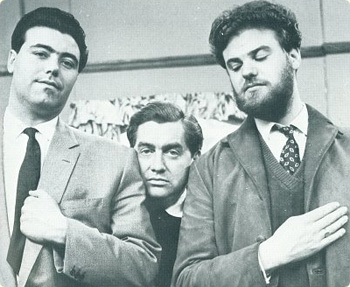 50 years ago some great recordings emerged - agreed?
Yes - Ornette Coleman's 'Shape Of Jazz To Come', Dave Brubeck's 'Time Out', Miles Davis's 'Kind Of Blue', Charles Mingus's 'Ah Um', John Coltrane's 'Giant Steps'.
Also in the studio, Tony Hancock and company reciting Galton and Simpson's classic sketch, 'The Poetry Society', which has meant almost as much to me as those magnificent albums. Well, it's made me laugh more, at least.
Whilst Ornette had created a new chapter in the avant-garde of jazz culture, East Cheam's would-be revolutionary was, as usual, making little headway in his quest for self-improvement.
I was tempted to just post the whole show, but you can read it
here
and buy it
here
(for just 95p as I write).
For my money this is Hancock's finest half hour, where classic jokes abound as our Tony desperately tries to ingratiate himself with the 'East Cheam Cultural Progressive Society'.
The joke is partly on the culturally pretentious but, as always, really revolves around Hancock and his aspirations. In another sketch he can found on his bed, struggling to read Bertrand Russell between having to reach for the dictionary every few seconds. Galton and Simpson would later explore failed aspirations in the tragic-comic figure of Harold Steptoe.
I used to enjoy dropping this part of the show into my DJ sets sometimes:
Hancock: We're the 'avant-guard' of the New Culture. We're dedicated to setting up a new order of things; determined to establish a new set of values; to break away from the bonds that threaten to stifle the cultural and creative activities of Man's mind.
Sid: Blimey, another load of layabouts.
Hancock: We are not layabouts, we are artists, mush. Writers, poets, thinkers, all men who are seriously perturbed about the state of the world at the moment.
Sid: And what are you lot going to do about it?
Hancock: We are going to show the world the real truth, by setting them an example, developing our superior intellects. Culture, mate, that's where the hope of the world lies. And a more cultural mob than us you wouldn't find outside the Chelsea Embankment. Twenty-seven throbbing intellects, raring to go.
Down the years I've been able to relate to this show, as a dedicated, dole-dwelling anti-establishment poet – ha! But you have to be able to laugh at yourself, if only retrospectively.
Half a century has not blunted the sharp, cynical wit on display here. Regarding the subject matter of phoney cultural rebellion, it will probably never be out of date.